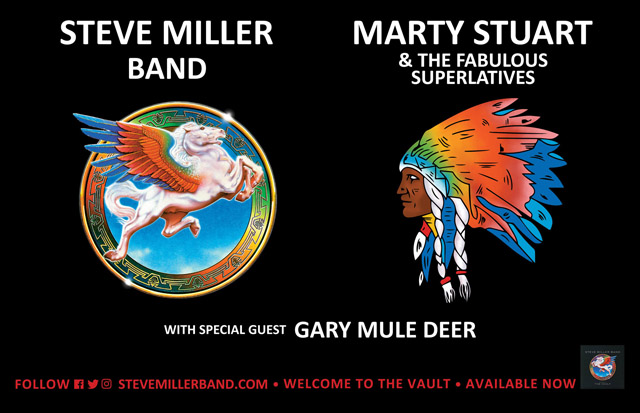 The Steve Miller Band, Marty Stuart and His Fabulous Superlatives with special guest Gary Mule Deer have just announced the tour dates for their 40-city summer 2020 tour of North America.

The AMERICANA tour will start in Austin, TX, on June 13, immediately after Miller is inducted into the Songwriter's Hall of Fame in New York on June 11. There will be two special festival dates featuring Brian Wilson and Taj Mahal, as well as four Canadian concerts featuring one the hottest new blues guitarists in the country, Matthew Curry. The full itinerary is below. For ticket on sales, fans can check local listings.

"Touring with Marty and the Superlatives is inspirational," said Miller. This is undoubtedly one of the most talented touring combinations I've ever been involved in. The jam sessions are spontaneous music at its best. And adding the comedy and music of Gary Mule Deer to the show is a real mold-breaking move for me. I'm grateful to be able to tour with these great artists and to bring the Steve Miller Band audience the best of the best."

"Touring with the Steve Miller Band," said Stuart, "has proved to be magical. It is indeed an honor to go across the nation with Steve and the Steve Miller Band."

"Being a part of a tour with both Steve Miller and Marty Stuart is as great as it gets!" said Gary Mule Deer."

2019 was one for the record books for Miller and Stuart. In April, as a member of New York's Metropolitan Museum of Art's musical instrument department, Steve Miller helped organize the record breaking Play It Loud guitar show at The Met (which is currently on exhibit at the Rock N Roll Hall of Fame in Cleveland), and Marty Stuart was a major contributor to Ken Burns' latest brilliant PBS series, Ken Burns: Country Music. Miller and Stuart will continue working together to explore the roots of American Music.

Last year also saw Miller release his second volume box set of collected vinyl, as well as open his vaults for the first time ever, releasing the acclaimed Welcome to the Vault box set. He also performed live in over 50 cities, played "Fly Like an Eagle" with The Roots on The Tonight Show Starring Jimmy Fallon, and did two nights at Jazz at Lincoln Center performing Cannonball Adderley and the Blues, and more.

Miller was a mainstay of the San Francisco music scene that upended American culture in the late '60s. With albums like Children of the Future, Sailor and Brave New World, Miller perfected a psychedelic blues sound that drew on the deepest sources of American roots music and simultaneously articulated a compelling vision of what music- and society-could be in the years to come.

Running through Miller's catalogue is a combination of virtuosity and song craft along with melodic vocals and signature guitar riffs. His parents were jazz aficionados -- Les Paul was his godfather -- so as a budding guitarist and singer, Miller absorbed valuable lessons from their musical tradition. When the family moved to Texas, Miller deepened his education in the blues, meeting T-Bone Walker and learning to sing and play listening to him and Jimmy Reed. Miller then moved to Chicago where he played with Muddy Waters, Howlin' Wolf, Lightnin' Hopkins, James Cotton, Buddy Guy and Paul Butterfield.

The Steve Miller Band has played to more than 20 million people worldwide. In addition to touring with his band, Miller is also contributing his time to serving on the visiting committee of the Department of Musical Instruments of New York's Metropolitan Museum of Art and as a board member of Jazz at Lincoln Center, where he curates and hosts shows at both institutions celebrating blues, jazz and early American music. From 2015 - 2017, Miller and guitar legend Jimmie Vaughan presented sold-out shows at JALC: Ma Rainey Meets Miles Davis, T Bone Walker - A Bridge From Blues to Jazz, and The Blues Triangle: Memphis, Texas and Chicago with harmonica virtuoso Charlie Musselwhite. In 2018, Miller with Marty Stuart presented two sold-out shows called Music from Appalachia. In 2019, Miller joined forces with the Patrick Bartley Sextet and vocalist Brianna Thomas to bring Cannonball Adderley and the Blues to the JALC stage.