---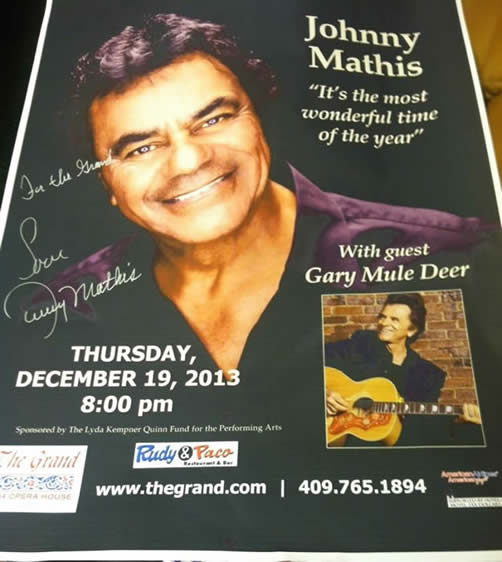 December 19, 2013
Merry Christmas from Mule Deer and Mathis! A great show at the Grand 1894 Opera House in Galveston on 12/19.
Just spent a great 5 days in CA at the Scott Medlock/Robby Krieger Invitational for St. Jude's Hospital. Robby Krieger of The Doors, Tommy Thayer, Eric Singer from Kiss, Danny Seraphine (Chicago), Rich Robinson (Black Crowes), Adrian Young (No Doubt), Dave Brock, Sebastian Bach (Skid Row) and amazing 13 year old guitar wizard Ray Gorenand. Kit Potamkin (Wild Child), Jonny Lang, Steve Molitz (Particle), Phil Chen (RodStewart), Gene Simmons (KISS) and son Nick plus rock comic Mark Eddie. I did some comedy then my band for Folsom Prison Blues was Robbie Krieger (Doors) and Mark Eddie on guitars. Adrian Young (No doubt) on drums, Steve Molitz (Particle) Keyboards, Henry Peek on harmonica (Tommy Thayer's father –in-law, he's great!) and Jackson Browne's bass player (Bob Gaud)..Wow... It rocked! Ran into old friend John O'Hurley who helped with the auction. (He got $65,000 for Robby's 2010 Camaro!). Also got to spend some time with Patrick Warburton and Jackie Flynn. Went out a day early and teed it up at Sherwood CC with my good friend Matt Griesser (regular on HBO's Family Tree, Radio Shack commercial fame and the voice of Cheez), Steve Mosko (Sony President) and Judge Milt.
Stayed over and extra day and played Woodland Hills CC with Robby, Scott Medlock and Henry Peek. I am blessed.
Great trip!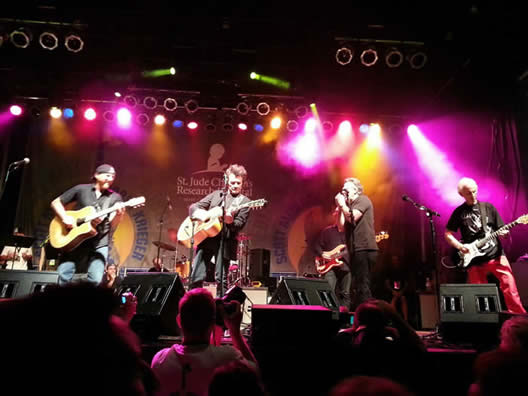 September 16, 2013
Mule Deer and the band on Folsom Prison Blues
September 16, 2013
In the Green Room with Steve Molitz (Particle),
Mule Deer, Sebastian Bach (Skid Row), Danny Seraphine (Chicago)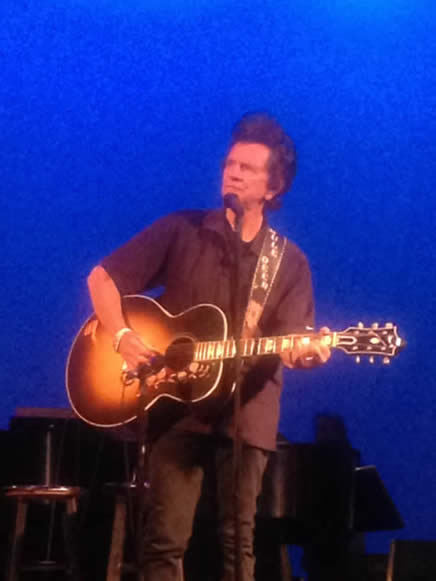 September 8, 2013
This was taken during rehearsal at The Orpheum Theatre in Wichita Sunday night by good friend and lighting tech, Stacey Westbrook. One of two nights with Johnny Mathis and the orchestra. The first date was Friday at The Kauffman Center For The Performing Arts in Kansas City. Both shows a sell-out and the audiences were incredible!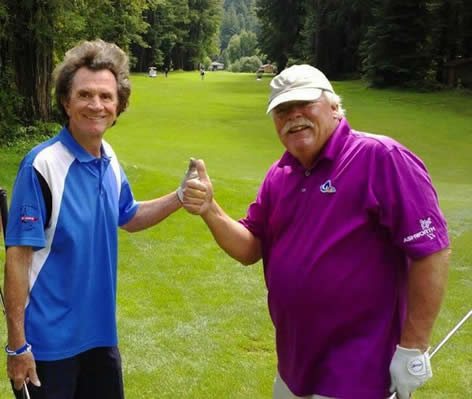 July 2013
Mule Deer and Maltbie after a nice round of golf a few weeks ago.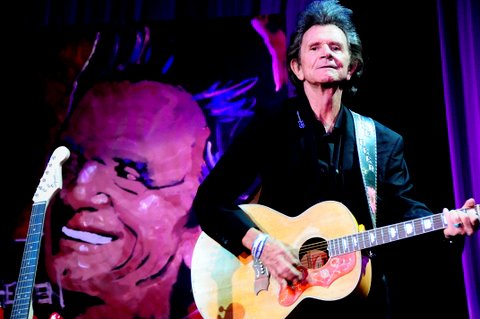 July 12, 2013
Mule Deer closing Friday night's show for The Dry Heat Golf and Charity Classic at Wild Horse Pass Resort and Casino in Chandler, AZ. Painting of me in the background was one of two by Randall Hedden of Tributeart Live. The other one was of Johnny Cash. He painted both in less than 15 minutes. The portraits were auctioned off for the charity. It was a great night and as an added bonus my team from General Dynamics won the two day golf tournament with a score of 106.
We shot 19 under both days and no, they didn't use any of my drives!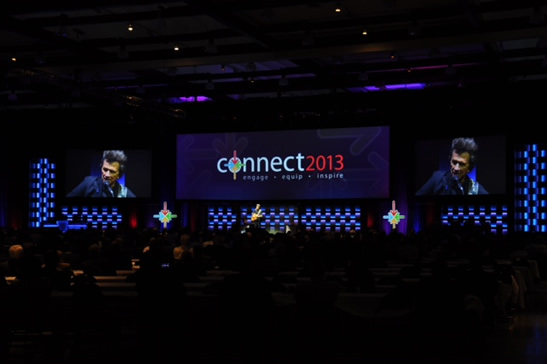 July 8, 2013
Last night in Chattanooga for McKeeFoods. Great event at The Marriott Convention Center.
I had a great show and a standing O!
Day after tomorrow I head for Chandler, AZ and The Dry Heat Golf Classic at
The Wild Horse Pass Casino...
It should be a warming experience.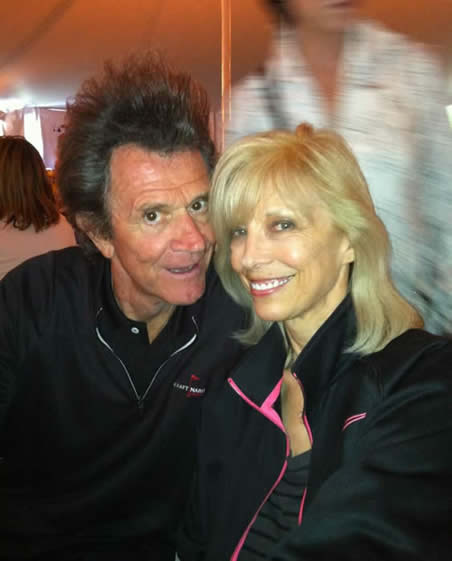 Gary and Nita at The Vinny.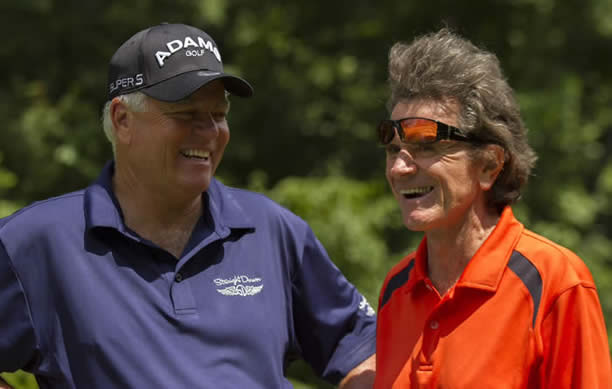 Pro-am partners Scott Simpson and Gary Mule Deer at The Vinny. Also on our team that day was U.S. Amateur Champion Stephen Fox. What a day of golf...I am truly blessed.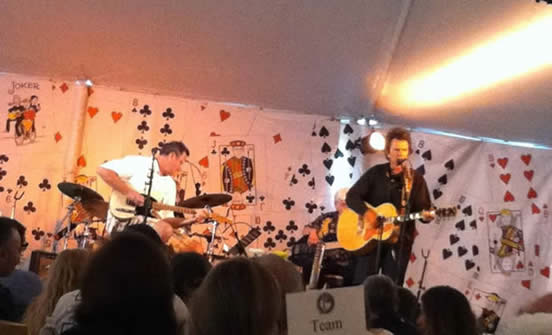 On stage performing with Vince....at The Vinny.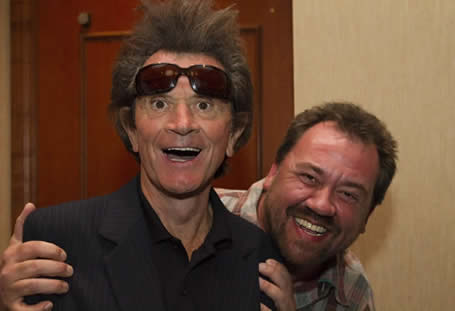 Old pals Mule Deer and Dan Tyminski at The 21st Vinny.


Just finished golfing and performing at The 21st Anniversary of The Vinny in Nashville, TN. It was a great show .
Pictured above are the comedians that performed along with all the country acts : Mule Deer, T.Bubba and Henry Cho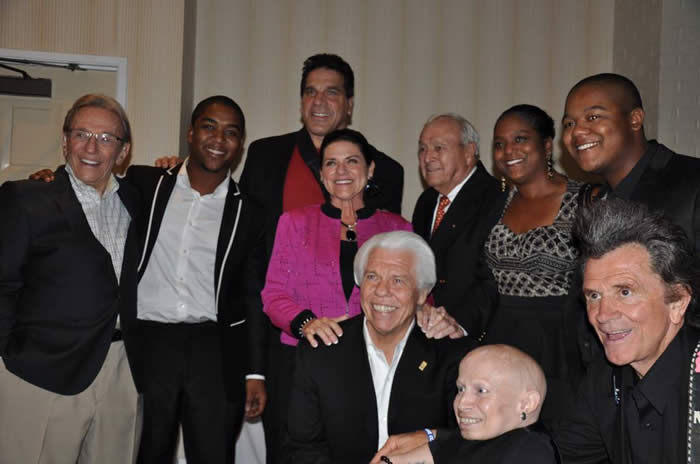 I had a great show May 19 performing for The Adelphoi Arnold Palmer Award dinner honoring Bill and Tani Austin founders of The Starkey Hearing Foundation. It couldn't have gone to two more deserving human beings. It was also very special having Arnold Palmer and his wife sitting ringside and afterward having Arnie invite me to come down anytime and play Bay Hill with him . Somewhere in this picture : Norm Crosby, Bill and Tani Austin. Mini Me,
Mule Deer, Arnold Palmer Lou Ferrigno
and the entire Massey family

QUESTION: What could be more nostalgic than Frank Sinatra singing "My Way"?
ANSWER: Barbara Sinatra thanking a room full of celebrities for playing in every one of The
Sinatra Invitational tournaments for 25 years.
There have been changes, of course. It's now the Frank Sinatra Starkey Hearing
Technologies Celebrity Invitational, reflecting the enormous contributions by Tani and Bill Austin
who brought not only their funding but their philanthropic inspiration to the cause.
And the venue has changed to the high-energy Fantasy Springs Resort Casino where tribal chairman
David Roosevelt and the Cabazon Band of Mission Indians have imbued every aspect of the tournament
with impressive style and class.
But it's the things- especially the people- who haven't changed a bit in 25 years, that made this night so special:
Emcee Tom Dressen, Robert Wagner and Jill St. John, Pat Boone, William Devane, Vince Ferragamo,
Rollie Fingers, Tom Flores, Steve Garvey, Gary Mule Deer and wife Nita, John O'Hurley, Norm Crosby,
Bill Smitrovich, Frankie Randall, Deanna Martin (Dean's daughter), actor Robert Hays, comic Bill Engvall
and composer Carol Connors among them.
By Betty Francis
Special To The Desert Sun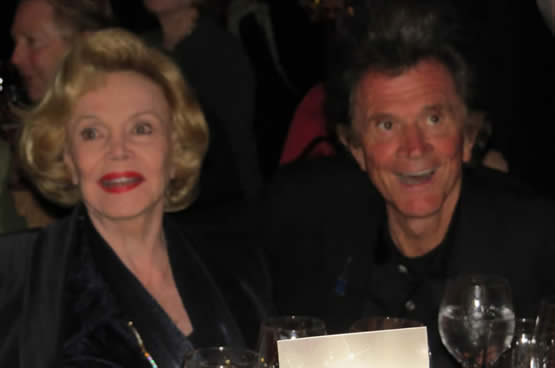 Barbara Sinatra and Gary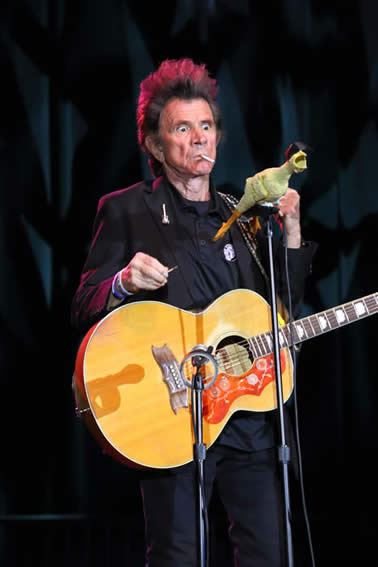 Mule Deer and Fred the chicken in his Sinatra show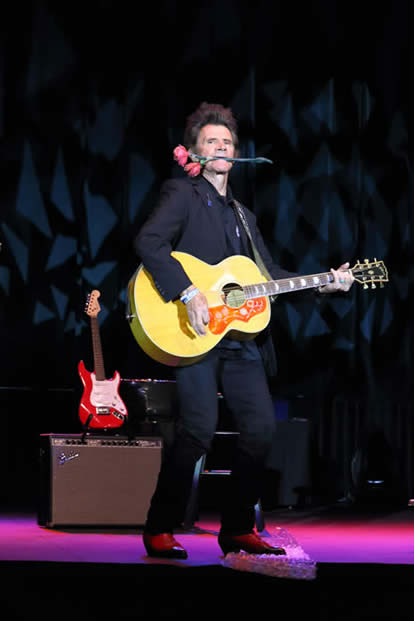 Mule Deer's flamenco in Sinatra show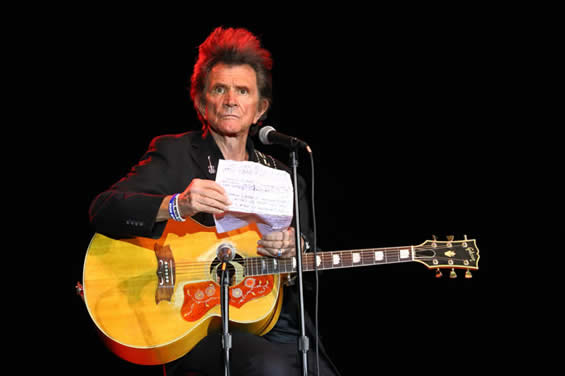 Mule Deer reading five rules for men in the show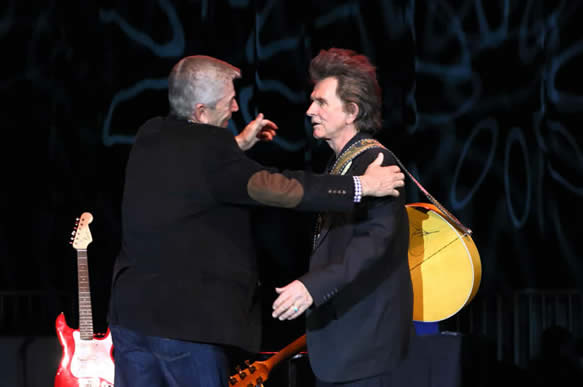 With emcee Tom Dreesen after Gary's Sinatra show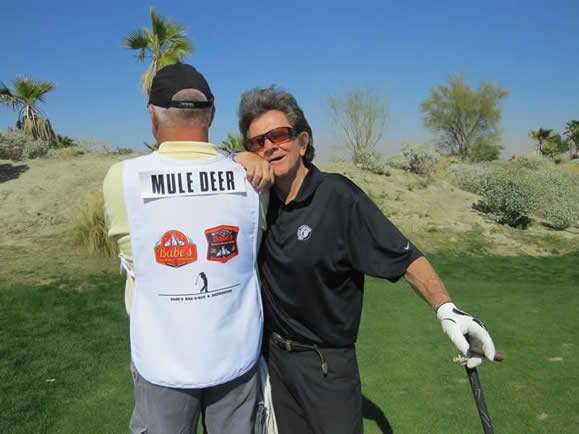 On the course with caddie and cigar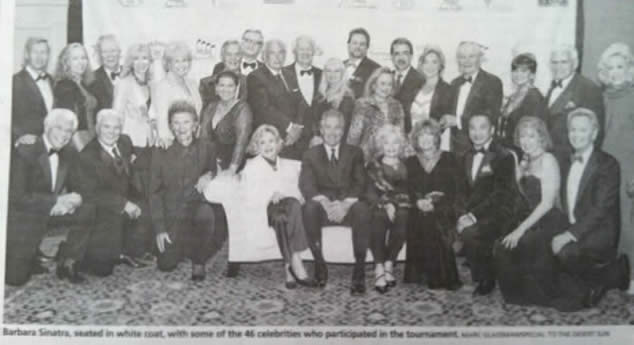 Sinatra Group Photo
Had a great time from Feb. 4-10 at The AT&T Pro-Am.
Golf wasn't so great but I hit a home run with the big
show on Wednesday night. Carson Daly was the host
and we had everyone from Huey Lewis and Ray Romano
to Jake Owen and Charles Clark. I went on between Kenny
G and Darius Rucker. My pro was Andres Gonzalez, a great
guy but we sucked. Try again next year!
In the players tent with Padraig Harrington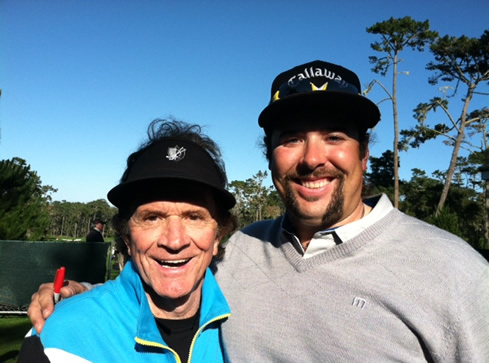 With my partner PGA Pro Andres Gonzalez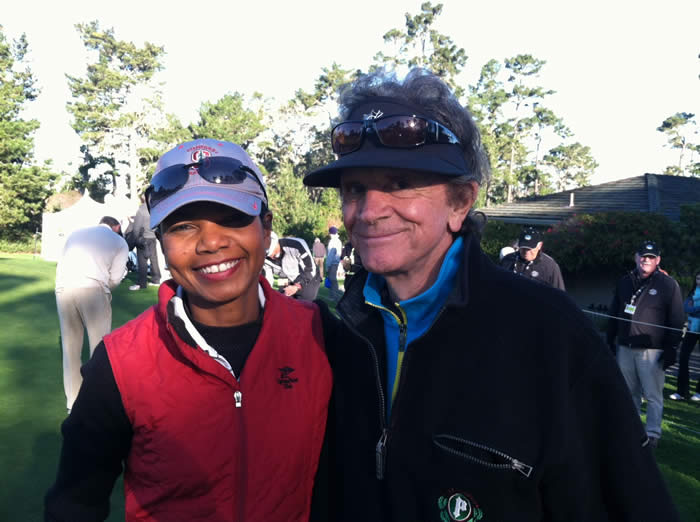 On Spyglass with Condoleeza Rice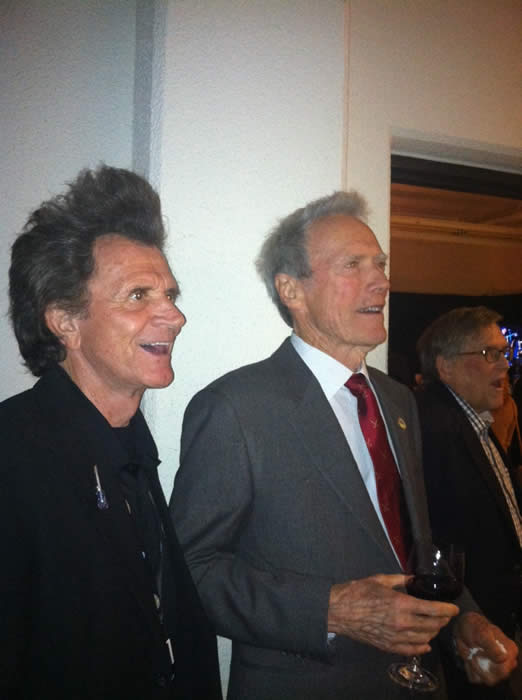 Watching the show with Clint Eastwood

It has been a great year starting out with New Years Eve in Las Vegas for Chuck Brennan and Dollar Loan Center, followed by 2 sold out dates with Johnny Mathis in Ft. Lauderdale and Sarasota, FL on the 14th and 16th. On January 20 I performed my 90 minute one-man show at The McCallum Theatre in Palm Desert, CA and then once again at The Bankhead Theatre PAC in Livermore, CA, then on to Destin Fl on the 24th for Alabama Electric Co-Op at The Sandestin Hilton.All of the above were with super production manager Michael Grimm. February 4-10 I will be a pro-am contestant at The AT&T PGA Classic in Pebble Beach, CA and part of the All Star Volunteer Show on Feb. 6th hosted by Clint Eastwood. Will round out the rest of the month with Johnny Mathis at The Chumash Casino in Santa Inez, CA on the 14th and then on to The Sinatra with Nita February 21-23. On the 21st Dick Van Dyke and I will be the first evening'sentertainment. Between advancing promo,flights,hotels,rental cars plus lots of tv and radio interviews and shipping CDs Nita is worn out and looking forward to ten days in the desert.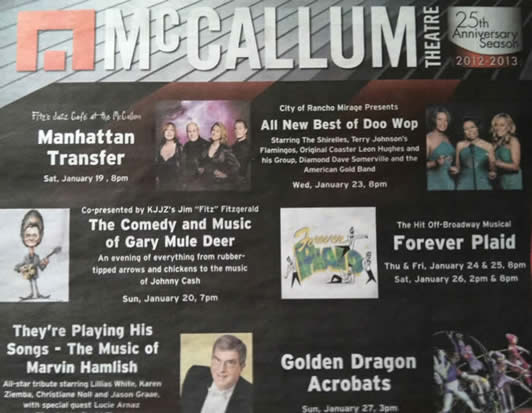 January 20, 2013
McCallum Theatre show poster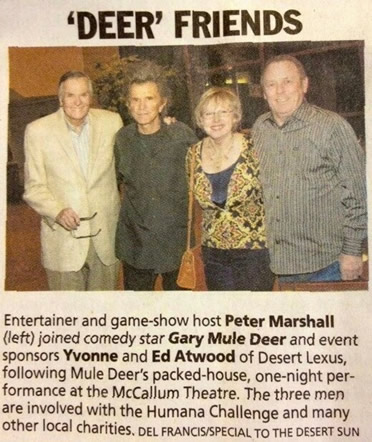 January 20, 2013
Desert Sun article about the show at the McCallum Theatre